Fashion is cyclical — what goes out of style eventually comes back, but better. This is especially true for vintage clothing. Popular clothing from past decades has made a comeback in recent years, and shows no signs of slowing down. Here are four fashion styles that have made a comeback, and how you can recreate the look if you want to strut it out in the city in style!
1. The Roaring Twenties
The Twenties were a time of excess and opulence, and that is reflected in the design cues and fashion of the time. The Twenties is basically synonymous to Art Deco. It is characterized by its sleek, geometric lines, its sharp angles, its lack of curves, and its use of materials like wood, metal, stone, and gold.
Apart from Art Deco, people liked flaunting luxury and magnificence in the way they dressed. Women wore dresses with intricate beading and sequins, fur coats, and feathers. Men wore suits with wide lapels and fedoras.
To recreate the look, start with a basic 1920s-style dress or suit. Most women's dresses had a straight cut and exposed the arm or the shoulder. Then, accessorize with beaded jewelry, a fur stole or jacket, and a feathered headpiece. Make sure that you have your hair styled the way most women did in the Twenties like the Pringle Shingle, the Eton crop, pin curls, kiss curls, or the windswept bob. Finish the look with a pair of spats or two-tone shoes.
2. The Swinging Sixties
The Sixties were all about peace, love, and self-expression. It was a time of great change, both politically and socially. The civil rights movement, the women's liberation movement, and the gay liberation movement all began in the 1960s. Music, art, and fashion were all heavily influenced by these movements. One of the events that could sum this up was Woodstock of 1969.
The progressiveness of the Sixties was reflected in the fashion of the time, which was colorful, bold, and often outlandish. Women wore miniskirts, patterned tights, go-go boots, and false eyelashes. Men wore Nehru jackets, paisley shirts, bell bottoms, and sandals.
If you want to look like a time traveler from the Sixties, start with a basic 1960s-style mini dress or tunic top. Then accessorize with tights or leggings in a bold print, go-go boots or Mary Janes, and false eyelashes or cat-eye glasses. Finish the look with a peace sign necklace or tie-dye scarf.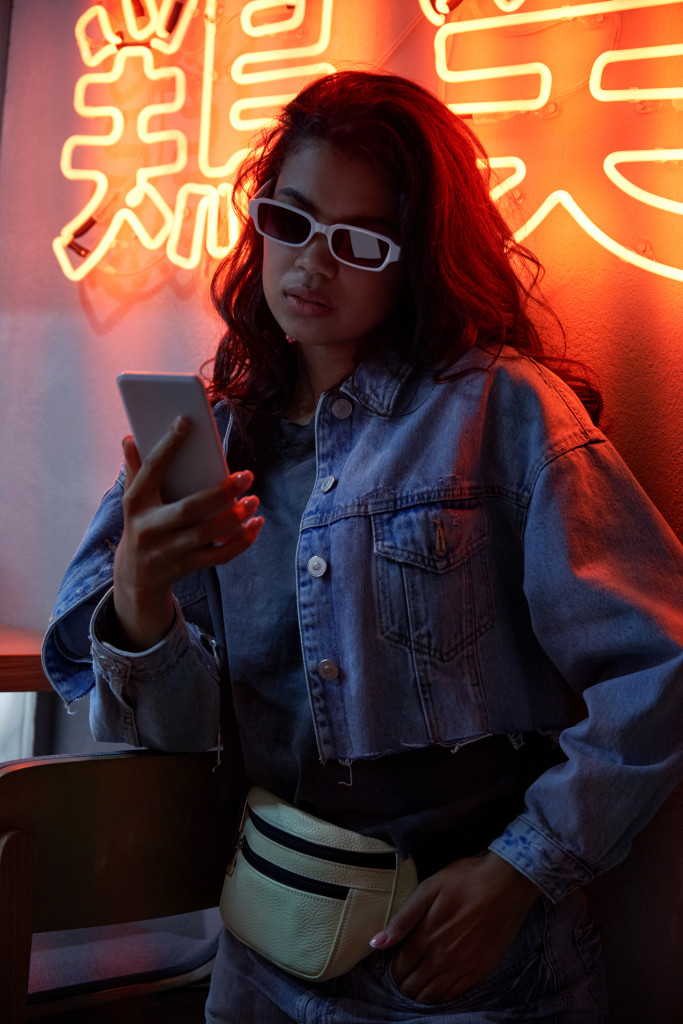 3. The Excellent Eighties
The Eighties were a decade of excess and indulgence. This was reflected in the fashion of the time, which was flashy and over-the-top. In the present, this decade is one that is experiencing a big renaissance in media, with shows like Stranger Things, GLOW, Maniac, Chernobyl, and The Goldbergs bringing neon lights and synth music to the forefront. This is the most popular in terms of visuals, too; even shows and music artists that do not have 80s elements use the ever-popular neon lights and purple-pink aesthetic.
In the Eighties, women wore shoulder pads, power suits, acid wash jeans, and big hair. Men wore suits with wide lapels, double-breasted jackets, Miami Vice pastel shirts, and gold chains. Either that, or they went with muscle shirts and straight-cut, acid-washed, and ripped denim.
To recreate the Eighties look, start with a basic 1980s-style power suit or acid-wash jeans. Then accessorize with shoulder pads or big earrings, power heels or sneakers, and big hair or teased bangs. Complete the look with dark sunglasses or bright red lipstick. Make sure that the colors clash, too! Choose animal prints and primary colors.
4. The Nineties
The nineties were a decade of comfort. This was reflected in the fashion of the time, which was understated and effortless. Women wore slip dresses, crop tops, mom jeans, and Birkenstocks. Men wore flannel shirts, baggy jeans or cargo shorts, and faded white New Balance trainers.
If you want a throwback to the 90s, start with a basic slip dress or flannel shirt. Then, accessorize with dainty jewelry or a choker necklace, gladiator sandals or mules, and messy hair pulled back into a low ponytail. Finish the look with dark lipstick or smoky eye makeup. Or, you can dress like a 90s popstar and go in an all-denim getup; you can go for a long denim dress like Britney Spears, or go in a tight denim skirt, a minuscule top, and a beret like Christina Aguilera.
Final Thoughts
As you can see, there are many different decades to choose from when recreating your fashion look. While some might be more challenging than others, they all have their own unique style and flair. So, which decade will you choose?