Invest in window treatments to create a cohesive feel.
Change up your lighting options for added ambiance.
Re-paint walls to give the home a new look.
Make good use of wall mirrors for dimension.
Revamp your home exterior by replacing doors, refacing driveways, adding landscaping, and upgrading outdoor furniture.
Making your home look appealing can come with a hefty price tag. However, there are ways to improve the look of your home without breaking the bank. Here are five tips to help you spruce up the look of your home for a better appeal that won't require you to have an unlimited budget.
1. Invest in Window Treatments for a Cohesive Feel
Window treatments are one of the most effective and affordable ways to make your home appear more polished and inviting. Adding window treatments, such as curtains or blinds, will give each room in your house a cohesive feel. They add variation in texture and color and provide privacy while allowing enough light into the space so it doesn't look too dark.
When shopping for window treatments, consider the room's existing design elements and decide which style of window treatment will look best in that space. For example, if you have an eclectic-style living room, opt for something with a more bohemian feel, such as a sheer curtain or patterned Roman shades. If your kitchen has a more modern vibe, try something simple like a roller or Venetian blind.
2. Change Up Your Lighting Options
Lighting plays a major role in the ambiance of your home, so it's essential to switch up your lighting options to impact how your home looks and feels. For example, you can install dimmer switches and light fixtures to create different moods or brighten up darker rooms with strategic light placement throughout your house. This will also help save money by using energy-efficient bulbs that last longer than traditional incandescent bulbs.
In addition to adding dimmers and light fixtures, you can experiment with different types of lights, such as recessed lighting, sconces, or chandeliers. Each type of lighting will create a distinct atmosphere in your home that can add depth and interest to any room. If you're looking for more cost-effective options, try using different types of lamps, such as floor or table lamps. These can be moved around the room for more flexibility and to change the look.
3. Re-Paint Walls to Update the Look of Your Home
Nothing makes a bigger statement than changing the color of your walls. Whether you decide to go bold or subtle, repainting the walls can completely transform your home into something new. Try to pick a neutral color that will match any type of decor so you don't have to worry about updating the look every few years.
4. Make Good Use of Wall Mirrors for Dimension
Mirrors make small spaces look bigger and brighter by creating an optical illusion. Whether in the living room or bedroom, strategically placing wall mirrors can draw attention away from cramped hallways or unappealing furniture. Plus, they make great focal points when used as centerpieces on smaller walls.
5. Revamp Your Home Exterior
The exterior of your home is often overlooked when trying to make improvements. However, it's a great way to upgrade your home's entire look instantly.
Here are some aspects to revamp your exterior:
Door Replacements
Making small improvements to your home's exterior can significantly impact the overall look of your home. Start by replacing broken or outdated door fixtures like doorknobs, locks, and knockers. You can also repaint the door with a new color that matches your exterior décor – think bold blues, fresh whites, or deep greys! Installing new hardware will instantly make an entrance more inviting while adding a modern touch.
Driveway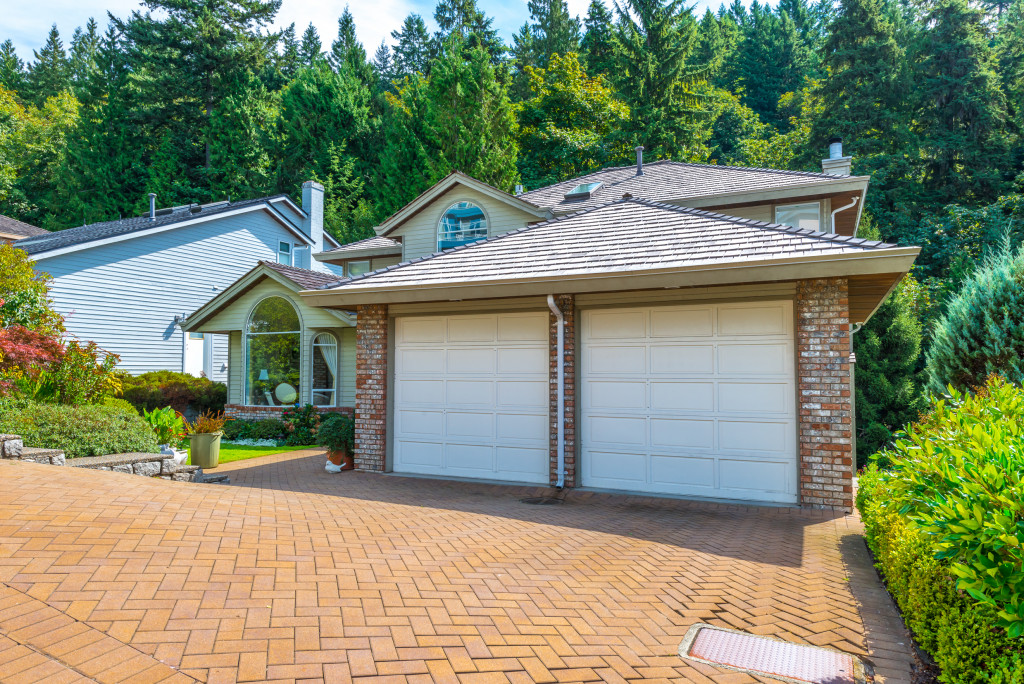 The driveway is the first thing your guests see when they arrive. So, give it a makeover by transforming it into a high-quality seal coat driveway. This will help protect and preserve the asphalt from damage caused by cars and extreme weather conditions. Seal coating refreshes the color of your driveway and prevents cracks, fading, and potholes from forming. Other ways to revamp it include adding a decorative border, laying paving blocks, or planting flowers on the sides.
Landscaping
Your home's landscaping is one of the most important aspects to consider when revamping the exterior. Installing outdoor lighting can help you create a different look and feel for your space while highlighting unique features. You can also add flower beds around the perimeter or borders along pathways to bring more greenery into the area.
Furniture Refresh
Upgrading outdoor furniture can be fun and give your home's exterior an instant facelift. Choose durable materials such as wicker or metal to ensure your furniture can withstand the elements. You can also go for bold patterns or bright colors if you're adventurous! Whether it's a small seating area or a full-fledged outdoor lounge, making a few changes in the furniture arrangements will give your home exterior an entirely new look.
In Closing
Making improvements to your home doesn't have to cost an arm and a leg — there are plenty of ways you can spruce up the look of your home with minimal effort and expense. With these five tips, you'll be able to improve your home for a better appeal without having to splurge on expensive materials or services.