There are many reasons why your home should be a comfortable and functional atmosphere. One of the most important reasons is because you and your family spend so much time there. It's essential that you feel comfortable and relaxed in your own home so that you can recharge and rejuvenate.
Another reason is that your home is a reflection of who you are. If it's cluttered and chaotic, it will likely reflect that in your life. A comfortable and functional home is a place of peace and order where you can relax and rejuvenate.
Creating a comfortable and functional home will be the top priority. But once you have that, you can add a little luxury into the design. The step can benefit your family in many ways and make your home feel more like a retreat than just another place to sleep and eat. However, you might not know where to start when adding luxury to your home. Here are a few ideas to get you started.
Swimming Pool
Adding a swimming pool to your home can be a luxurious addition. Not only does it provide a place for you and your family to relax and have fun, but it can also increase the value of your home. Swimming pools are usually a tradition in luxury homes, so if you want to add a touch of luxury, this is a great way to do it.
However, starting the process will require some research on your part. You'll need to determine the size and shape of the pool, as well as the materials you'll use to build it. You'll also need to get the necessary permits from your city or county. Depending on your chosen size and materials, the swimming pool installation project might cost around $20,000 or more. However, it might be too steep of an investment for some families. If that's the case, other options are available, such as above-ground or inflatable pools. Hot tub installations are also a suitable addition. It might even be a more private pool for you and your partner to enjoy.
Sauna
A sauna is a traditional luxury item that has been around for centuries. It's a small room or house designed for relaxation and cleansing purposes. Saunas usually come from wood, such as cedar, using dry or wet heat to produce sweating. This process can help improve circulation, relieve muscle pain, and detoxify the body.
You can buy a ready-made sauna or have one custom-built to fit your needs. A sauna is a great way to do it if you want to add a touch of luxury to your home. However, be aware that they usually cost $5,000 or more. But if you use it often, it can be a worthwhile investment.
Home Theater System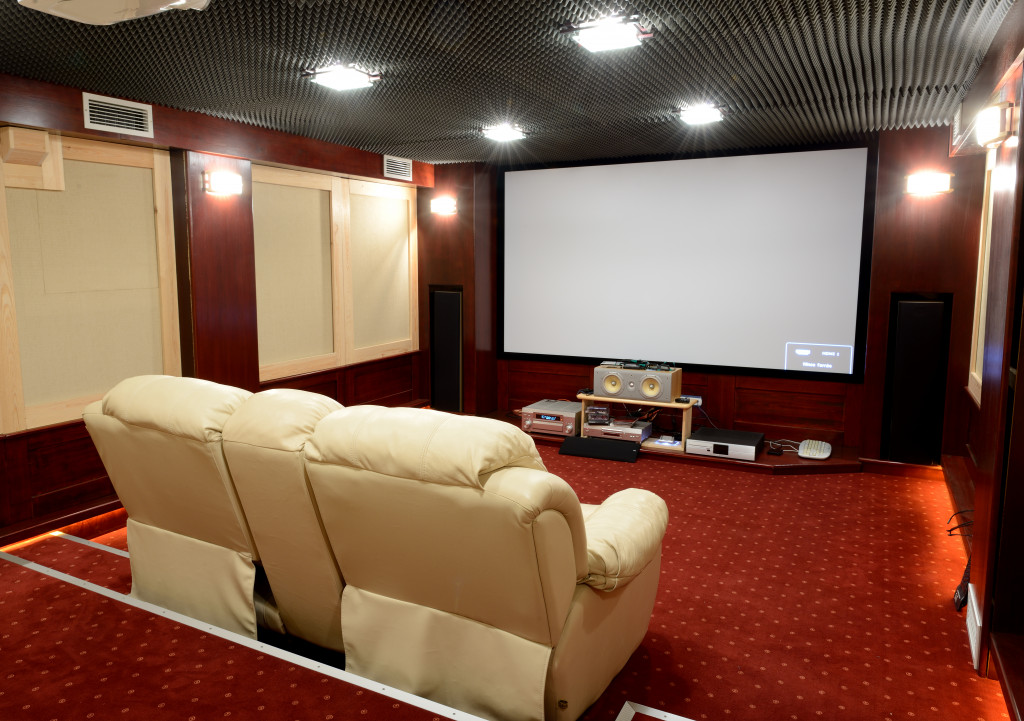 A home theater system is another way to add luxury to your home. This setup usually includes a large television, surround sound system, and comfortable seating. It's the perfect place to watch movies, sports games, or TV shows with friends and family. Home theater systems are becoming more popular in recent years as technology improves. You can find many affordable options that will still provide an excellent experience.
The average cost of a home theater system is around $1,000. But if you want a top-of-the-line system, it might cost upwards of $10,000. It all depends on the room's size, the equipment's quality, and how many people you want to accommodate.
Even if you can't afford a home theater system, there are still ways to upgrade your viewing experience. A simple soundbar can enhance your TV's audio and give you a more immersive experience. Or you could invest in a Blu-ray player for the best picture quality.
Outdoor Kitchen
An outdoor kitchen is a great way to entertain guests and have fun in the backyard. It usually includes a grill, sink, counter space, and storage. Outdoor kitchens are perfect for summer barbecues and parties. Homeowners can use it all year long if they live in a warmer climate.
The cost of an outdoor kitchen depends on its size and features. A basic setup might cost around $3,000, while a more elaborate one could cost $10,000 or more. But an outdoor kitchen is a worthy investment if you love to entertain.
However, hiring a contractor to install gas lines and electrical outlets will be necessary. The project, like many DIY tasks, could be dangerous if not done correctly. So, it's essential to consult a professional before starting the installation process.
Key Takeaways
There are many ways to add luxury to your home. But it's essential to consider the cost before making any decisions. Swimming pools, saunas, home theater systems, and outdoor kitchens are great additions. But they can also be expensive. So, make sure you do your research before starting any projects.