We all want our homes to reflect our personalities, but that doesn't mean they can't also be functional. That's why we've compiled our list of easy and affordable DIY projects to help you make the most out of your living space. These projects will help you get the most out of your home, from maximizing storage to creating a more efficient kitchen.
1. Maximizing Storage Space
No matter how much space you have, it never seems like there is enough room for all of your stuff. One way to make more room is by making use of vertical space. Add extra shelving or custom-built cabinets along walls or in alcoves. The vertical space will give you more room for items like books, knick-knacks, and other essentials that might otherwise clutter up your living spaces. You can even add overhead racks for things like bicycles and ladders that would otherwise take up valuable floor space.
Some people also have enough space in their yards to build a storage shed. This is a great way to keep things like garden tools, sporting equipment, and extra storage bins in one place, so they don't clutter up your house. You can find backyard shed plans online to help you get started. They'll provide detailed instructions and the materials needed to construct the shed.
2. Creating a More Efficient Kitchen
The kitchen is one place where efficiency can make a huge difference in how quickly and easily meals are prepared. If you are running out of countertop space while cooking, consider installing an island or additional countertops. This will give you much-needed extra surface area while keeping the kitchen sleek and organized. Just make sure to measure the space before buying any materials.
A backsplash behind the stovetop or sink can also provide a functional barrier against splashes and spills while adding an aesthetic touch! You can get creative with tiles, brick, and other materials to make a unique backsplash that fits your style. There are also faux-tile panels that are easy to install and require no grouting.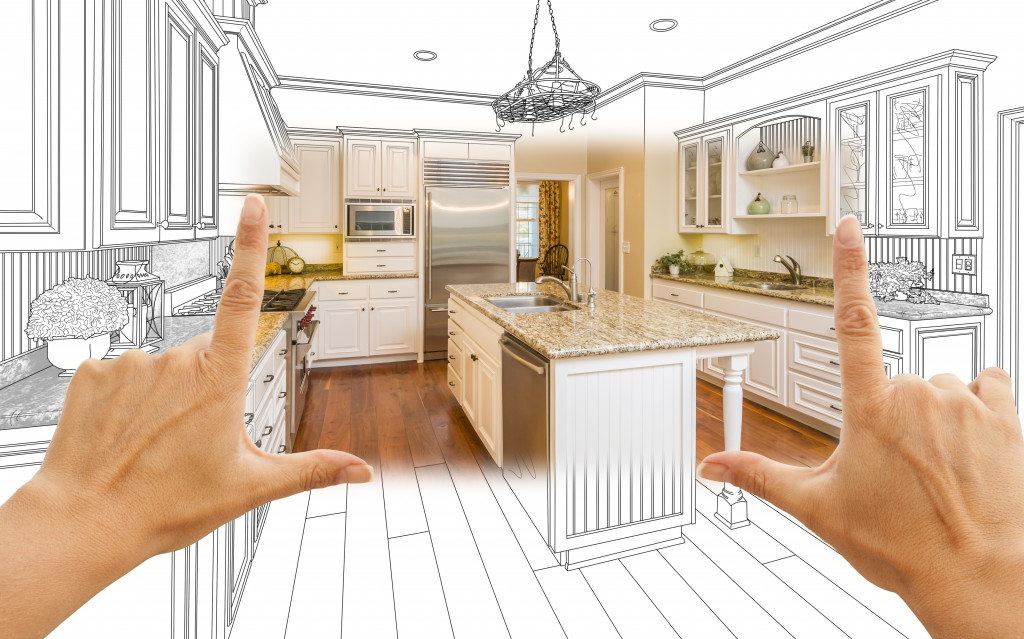 3. Adding Extra Seating
Extra seating is always useful, whether for guests or simply for yourself if you need to take a break from standing up in the kitchen. Installing benches along walls in hallways or entryways gives people somewhere to sit down without taking up too much floor space. Or, if you're feeling ambitious, build an outdoor bench with built-in storage underneath so you have somewhere comfortable to relax outside while still having room for gardening tools and other supplies!
When building seating, use strong and durable materials that withstand regular wear and tear. Also, keep in mind the overall look of your home when choosing fabrics and finishes so that the bench blends in with your existing furniture. Some upholstery shops will even custom-make benches for you.
4. Installing Smart Home Features
Smart home features like motion-activated lighting, voice-controlled thermostats, and smart locks can make your life easier and more secure. You can install these features easily with a few tools and some basic know-how. You can find step-by-step instructions online to help you get started. Just make sure the devices are compatible with each other and that they're correctly connected to your home's Wi-Fi network.
Security cameras are another popular way to make your home more secure. You can find cameras that sync with your smartphone to monitor what's happening in and around your home even when you're away. You can also find cameras that are designed to be hidden or disguised, so you don't have to worry about unsightly hardware in your home.
5. Updating Your Home's Look
Sometimes, a few simple updates are all it takes to give your home an entirely new look. Replacing switch plates, light fixtures, and cabinet hardware can give any room a quick facelift. You don't need special tools or skills to replace these items, just a few basic supplies like screws and screwdrivers.
You can also add accents throughout the house with paint or wallpapers. Choose colors and patterns that match the rest of your decor, or go bold with something entirely new! Wallpapers are great for making a statement, and you can easily change them if you decide to switch things up. Remember to use wallpaper paste and a damp cloth when applying them, so they stay on the wall and last longer.
No matter what type of home improvements you are looking for, plenty of DIY projects available can help improve both form and function in your home without breaking the bank! Whether creating more seating options, maximizing storage space, or making your kitchen more efficient – there's something here for everyone! Any homeowner can transform their living spaces into beautiful yet functional havens with just a few simple adjustments and creative thinking. So go ahead – get creative and start improving the functionality of your home today!