Throughout time, people have celebrated the birthdays of their friends. This tradition has been passed down for many generations and is still a significant part of culture today. There are numerous reasons why treating a friend's birthday as a special occasion is essential.
First of all, it can help to strengthen relationships between friends. A study by the University of California showed that when friends show each other appreciation on their birthdays, it leads to greater closeness and understanding. Furthermore, taking the time to recognize someone's birthday helps remind them that they are valued and appreciated by those around them. This can be especially beneficial for those who may not have family or close loved ones nearby to celebrate with for the occasion.
Additionally, celebrating birthdays is essential for mental health and well-being. According to Harvard Medical School professionals, participating in activities like celebrating one's or someone else's birthday can lead to increased feelings of joy, happiness, and satisfaction in life overall. Such celebrations also allow us to pause from our hectic lives, during which people often forget about what truly matters – taking care of themselves and their loved ones. Finally, sharing special occasions such as birthdays with friends can also benefit self-esteem. Feeling accepted by others can make people feel more confident about themselves and better equipped to tackle life's challenges.
However, you might be assigned to organize a friend's surprise birthday party. If it is your first time, the task can seem quite intimidating. But fear not! Here are some simple steps to help your friend's surprise birthday party succeed.
Create the Attendance List
Creating an attendance list for your friend's surprise birthday is the most crucial step in organizing a successful event. It ensures that all the guests you invite will be present, and it serves as a reference when sending out invitations or communicating with everyone involved in the party.
Having a set list of attendees can also help you plan out any food, decorations, supplies, or activities needed for the event. Knowing how many people will attend can help you decide how much to budget for these items and what type of decorations to get. Additionally, having an accurate count of people will prevent potential logistical issues on the day of the party, like not having enough seating or too little food. Moreover, some people might be willing to help out with the planning.
Making sure that everything runs smoothly for your friend's special occasion is imperative. Therefore, creating an attendance list should be done before other tasks begin. This list should include each guest's name and contact information so that everybody can be informed quickly and efficiently if there are any last-minute changes to the party's itinerary. Furthermore, this list should also contain notes about dietary restrictions from guests, which can help plan meals ahead of time.
Gathering the Usual Birthday Supplies
After deciding on the guest list, it is time to consider the decorations and supplies needed for your friend's surprise birthday. Traditional items such as balloons, streamers, banners, candles, cakes, and presents should all be considered when planning the event. Additionally, view other items that may make your friend's special occasion more festive or enjoyable for them and their guests.
When selecting party decorations and supplies, remember to consider the budget. You can buy things like banners or tablecloths inexpensively at craft stores or online retailers. Other items, such as food, can also be purchased in bulk to save money while providing an excellent experience for everyone attending the party. Furthermore, if you have a printer, you can print off pictures of your friend and use them as decorations around the house or venue.
Bringing the Surprise Elements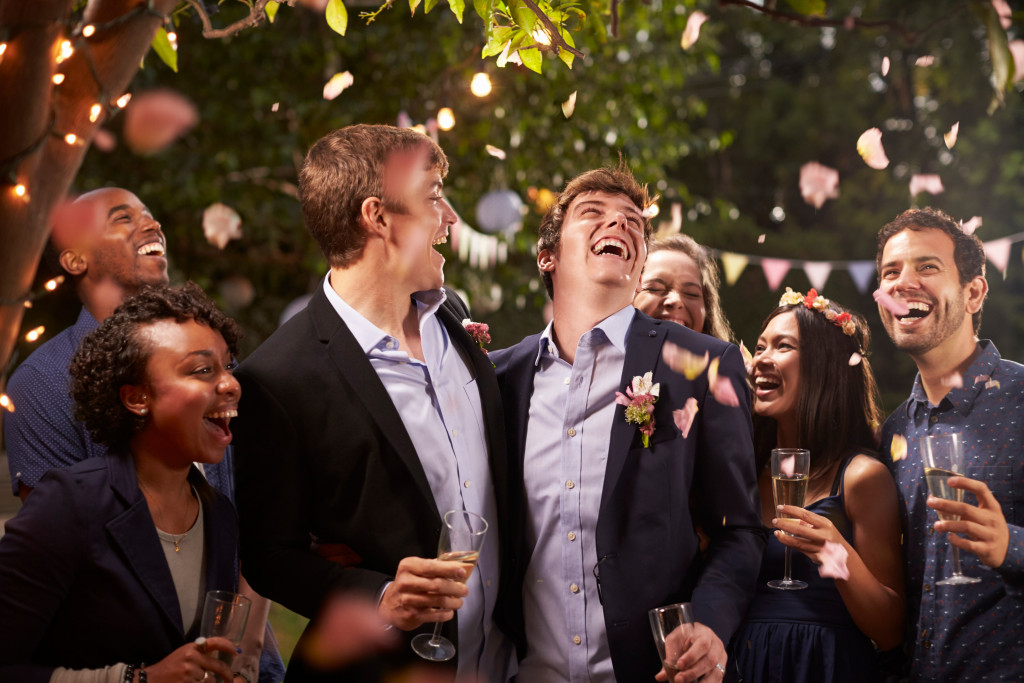 When organizing a surprise birthday party, the element of surprise is essential. You must ensure that your friend doesn't suspect anything until the day arrives to keep their special occasion as exciting and unexpected as possible.
Therefore, planning how you will get them to the event is crucial without raising suspicion. For example, if you are hosting the party at home, have everyone arrive ahead of time and hide when your friend gets there with creative excuses for why people had gathered there in the first place. On the other hand, if you are using a venue such as a restaurant or a hall, you can book it for an earlier time slot so that everyone can enter before your friend arrives and be ready to yell "surprise" when they do.
Nothing says surprise more than birthday confetti cannons, an excellent way to add excitement and wonder that your friend will appreciate. Lastly, if the event is at night, use low or dimmed lights to keep their surprise until they enter the room.
Final Thoughts
Organizing a surprise birthday party for your friend can be a great way to show them that you care about them and appreciate the wonderful person they are. With thoughtful planning, it can also be an opportunity for everyone to have fun and create lasting memories. Keep these tips in mind when organizing your friend's special event, and you will make their surprise birthday one of the most memorable days of their life!