Staying home during a pandemic means more uninterrupted quality time with your significant other. Nothing feels better about spending more precious moments together, whether having meals, working out, cleaning the house, and watching your favorite shows.
But being stuck in quarantine prison with your partner may be challenging, especially for those planning a proposal. Sure, you want to take your partner to a more romantic place rather than your home, but if the current situation isn't in your favor, a home proposal may be a better idea to ensure safety.
Home proposals are increasingly becoming a popular option during the pandemic. Even couples getting married are opting to have their wedding ceremonies at home instead of an outdoor venue. Couples buy diamond wedding bands online and work with wedding vendors in the comfort of their homes.
Proposals at home shouldn't be difficult. They're an excellent option for those who don't like the idea of public proposals. While the house seems commonplace for you and your partner, it's up to you how to make it romantic, intimate, and special. To help you craft a successful home proposal, here are some brilliant proposal ideas when locked at home in a pandemic.
Pick who's involved
People have different preferences when it comes to proposals. Some want a one-on-one private moment, while others want to do it in public. Meanwhile, some couples want their friends and family members to witness their special moments. Whatever your option, it's crucial to decide who gets involved, even in-home proposals.
When inviting people over, consider whose presence you and your partner appreciate having. The safest option is to invite only a handful of your closest friends and loved ones. But make sure to check who got their vaccines and encourage them to wear their masks for everyone's safety.
Another alternative is to have your friends and families gather for a Zoom call after the proposal. This is an ideal option if the guests are unable to be there physically. You can also ask your loved ones to send their messages via clip so you can put them together for a video montage. You can play the video before or after the proposal.
Decorate the proposal spot
Your home may be a less than ideal place to conduct a proposal, but a few decorations can transform it into a romantic space. Look online, and you'll find inspirations for DIY proposal spots and decor ideas.
Finding the perfect spot can be tricky if you and your partner live together. You have to be sneaky to avoid getting caught.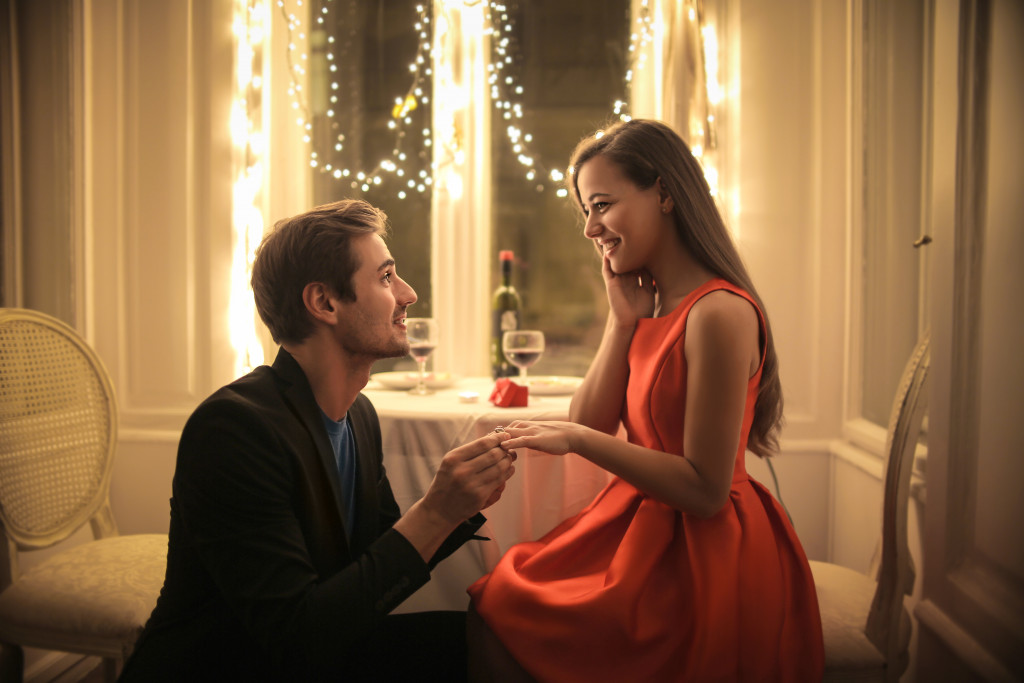 If your partner is busy or sleeping, take time to clean the house, especially the proposal area. If you want to make it look grand, deck out the area with confetti, balloons, streamers, and signs. Those who want to keep it simple and intimate can incorporate candles, blankets, flowers, twinkling lights, a bottle of wine, or even your pet! For an added romantic vibe, don't forget to come up with a great playlist. It can be a collection of love songs or your favorite tunes as a couple.
You may also consider making the proposal outside the house, whether in the front or backyard. They are an ideal place if you plan to propose at night. Just make sure the weather will cooperate.
Offer a gift
Consider how you will gather all the props if you plan to use any. While an engagement ring is the best gift you can present during the proposal, an additional gift will make the moment more meaningful. It doesn't have to be life-changing or expensive; it can be a flower, chocolates, stuffed toy, or anything your partner will appreciate.
You can also make it more creative and personalized by creating a scrapbook filled with photos, movie tickets, and other mementos that remind you of your special moments together.
Serve a fancy meal
Pamper your partner by serving their favorite meal. You can cook from scratch for an added romantic gesture. You can also set up a picnic-style dinner filled with finger foods, such as strawberries, chocolate, crusty bread, or pizza. But if you're not good at cooking, save yourself from embarrassment and order at a fancy restaurant instead.
Being stuck at home shouldn't keep you from organizing a successful proposal. Your home is the most intimate place where you and your partner can be comfortable with each other, making it a suitable place for a romantic moment. There are plenty of ways to plan a proposal, but the key is to make it unique and special to the two of you.