• Creating a cohesive color palette is important when decorating a modern urban home; options include monochromatic, contrasting, and neutral colors. 
• To bring unique elements to the space, consider incorporating traditional pieces with sleek lines and metallic accents. 
• Upgrading window treatments, adding statement pieces, and upgrading entryways can help create a contemporary look. 
• Industrial elements such as exposed brick walls, wood beams and piping, and metal accents can add an urban touch to the home. 
• Invest in multi-functional furniture pieces for each room to maximize space while being aesthetically pleasing. 
Are you in the process of decorating a modern urban home? If so, you've come to the right place. Decorating a modern urban style home can take time since it involves combining contemporary design elements with traditional pieces. But don't worry; with simple tips and tricks, you can create a stylish home that will surely envy your friends and family.
Choose Your Color Palette Wisely
Creating a cohesive color palette is one of the most important things when decorating a modern urban home. Here are your options and what they can bring to your home:
Monochromatic: This is a great option to create a tranquil and calming atmosphere in your home. Choose one color family and use different shades of that hue throughout the space.
Contrasting Colors: Playing with contrasting colors can be perfect if you are looking for a bold statement. Think black and white, navy and gold, or grey and pink.
Neutral Colors: A great option for creating a relaxed atmosphere in your home is to use neutral colors such as whites, beiges, tans, and greys. This will create an airy and open space in your home.
Aside from paint, you can also add colors by incorporating different fabrics and textures into your home decor. Throw pillows, rugs, curtains, and blankets are great ways to add pops of color throughout the space. You can also hang art pieces and ornaments that complement your color palette.
Incorporate Unique Pieces
Urban modern homes combine different textures and materials into one harmonious design. You can focus on modern pieces with sleek lines and metallic accents. Still, it's also important to add traditional elements as well. Here are some of the best ideas for your house:
Updating Your Window Accent
Replacing your plain window blinds with a roman shade or shutters can bring a unique look that will tie the room together. If you have smaller and/or difficult windows to decorate, you can use window film to add color and pattern without taking up too much space.
Adding a Statement Piece
A statement piece like an abstract painting or sculpture can unite your space and make it stand out. Plus, it's a great way to show off your personality in the room without taking up too much space.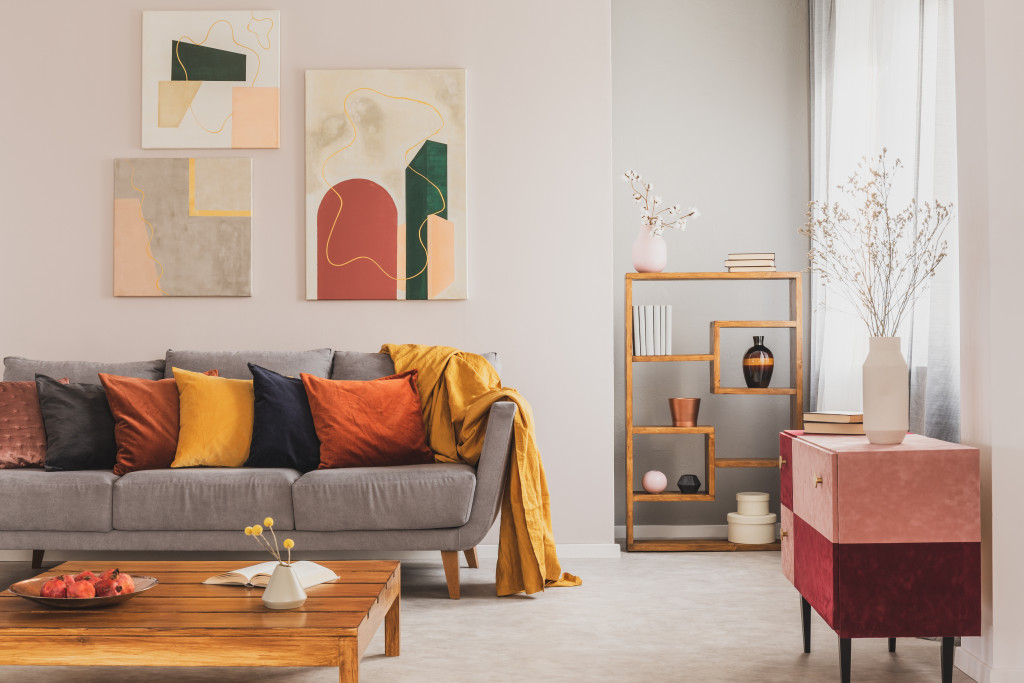 Upgrading Your Entryway
Consider a modern console table for a chic and functional element to store your keys and other items. You can also hang mirrors to create an inviting space or upgrade your lighting fixtures for a contemporary twist. For your door, modern Ives door pulls are elegant and timeless pieces that elevate the look of your entryway. It will also make it easy to open and close your doors.
Include Industrial Elements
Urban modern style is all about incorporating industrial elements into your home. Think exposed brick walls, wood beams and piping, and metal accents. This will create a unique and stylish atmosphere in your home that is perfect for creating that modern urban look.
Make Use of Multi-Functional Furniture
Multi-functional furniture is essential when decorating a modern urban home. These items are great because they help save on space while simultaneously being aesthetically pleasing and functional. Here are the rooms that you should focus on:
Living Room
Look for sofas that double as storage spaces and coffee tables with drawers. Ottomans can also store items while providing extra seating space in the room. You can add extra storage with floating shelves, cabinets, and bookcases.
Bedroom
Invest in a headboard with built-in storage to maximize the space in your bedroom. You can also choose dressers and nightstands with multiple drawers for additional storage. To make it more spacious, you can also opt for a Murphy bed that can be folded and tucked away when unused.
Kitchen
Add shelves and cabinets to the walls to give your kitchen more storage space. You can opt for floating shelves or open shelving units for a sleek finish. Additionally, you can opt for a kitchen island with built-in drawers and cabinets that can also be used as a breakfast bar. Choose countertops made of quartz or granite to give it a modern touch.
By following these simple tips and tricks, you can create a modern urban home that is stylish, chic, and unique. With the right colors and pieces, you can create a space that reflects your personality while remaining timeless and beautiful. Have fun with it, and enjoy the process.